Is Every Door Direct Mail Right for Me?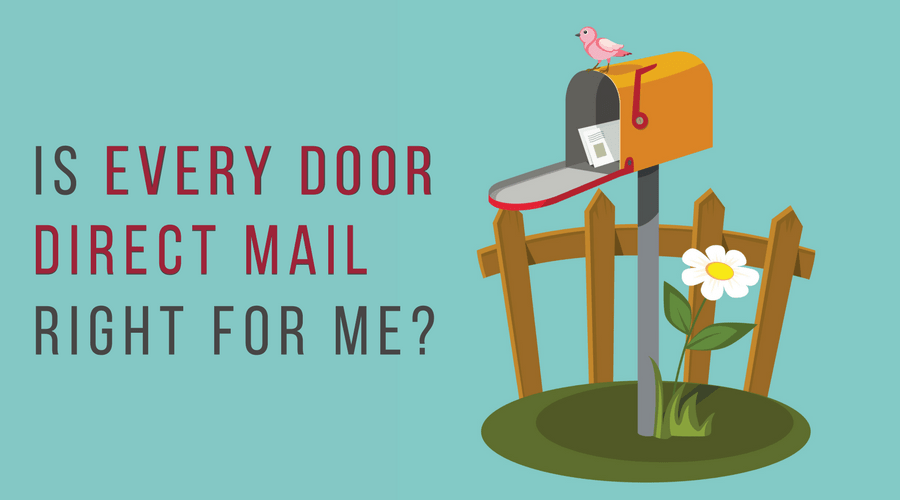 USPS Every Door Direct Mail® (EDDM) is an easy and cheap way to get the word out about your business. If you regularly send direct mailings to your community, then EDDM® might be a good fit for your company. You can send mail to various routes based on age, income, and average household size, so you can choose the areas that best fit your target market.
If your business offers a universally needed product or service, you might want to consider EDDM over targeted mail. If you view everyone as a potential customer (for example, a gym, restaurant, moving company, or auto repair shop), targeted mail may cost you too much time and money to be worth it. If your business has a specific demographic, however, EDDM is likely not for you.
You can also consider EDDM if you have an extremely small marketing budget because you don't have to pay for a mailing list and will be able to mail items for much cheaper. If you're considering EDDM, consider the pros and cons.
Advantages of using EDDM
You're able to saturate entire neighborhoods with your business's information and benefits.
You don't have to purchase a mailing list, which can be costly.
You can avoid purchasing a postage permit, which saves you the annual cost of buying one.
Disadvantages of EDDM
There is no personalization or targeted marketing.
You may have to print mailings larger than you'd like because EDDM only allows specific sizes.
EDDM requires additional work because you have to separate mail into bundles and complete a few forms before sending things out.
How to use EDDM
Set up your USPS EDDM Retail or Business Account. The USPS® offers two account types:

An EDDM Retail account allows you to send up to 5,000 pieces of mail per day per ZIP Code™. For small businesses, this is the most popular account type because it doesn't require you to purchase a postage permit.

A Business Account allows you to send more than 5,000 pieces of mail per day per ZIP Code, but you must purchase a postage permit. EDDM mailings made through Business Accounts are called Business Mail Entry Unit (BMEU) Marketing Mail™.

Select your routes. You can use the EDDM Mapping Tool to choose where you want your mailings to be delivered. The Mapping Tool shows you how many residences and businesses are along each route, as well as ages and average household size and income. This way, you can choose routes that most closely align with your target market. Read also: How to Conduct Market Research
Design and print your mailings. You can either print your mailings yourself or with a USPS affiliate printer. Printing your own mailings will save money, but using an affiliate printer will save time. No matter which option you choose, make sure to clearly state the benefits you offer and have a clear call to action stated in multiple places on the mailing.
Choose your drop-off date. The date you choose will be based on how many deliveries you want and where the routes are located.
Prepare your bundles. Bundle the mailings in stacks of 50 to 100. The USPS does not allow the stacks to be higher than six inches.
Fill out processing forms. Facing slips and EDDM Retail PS forms tell the Post Office™ exactly how to process your mailings and where to send them. You'll also use these forms to indicate any addresses that should be avoided because the residents have requested not to receive mail from you anymore.
Submit mailings and pay for postage. You can pay online or at the Post Office when you drop off your bundles. Once the Post Office has your mailings, you just have to sit back and wait for new business.
Read also: 6 Ways to Save Money in Your Small Business