Small Business Saturday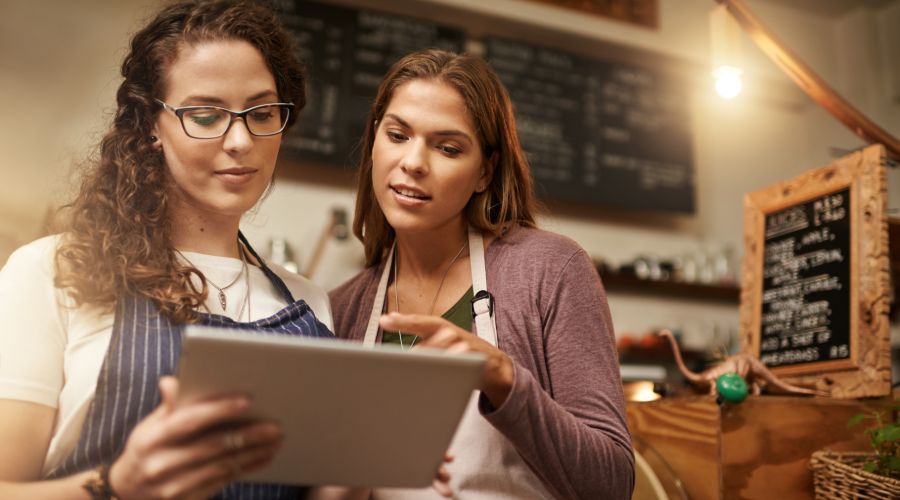 Small Business Saturday (SBS) takes place the Saturday after Thanksgiving each year and encourages people throughout the U.S. to support small, local businesses. It's become one of the biggest shopping days of the year. In fact, consumers spent $17.8 billion at independent retailers and restaurants on SBS in 2018.
American Express® launched SBS in 2010 because it can be hard for small businesses to compete with big companies, especially around the holidays. Between Black Friday and Cyber Monday, small businesses can be lost in the crowd. SBS helps smaller organizations kick off the holiday shopping season.
Participating in SBS can help your business attract new customers and start your holiday shopping season off on the right foot. So, how do you get involved? Keep reading to learn six ways your store can celebrate Small Business Saturday.
1. Get help from American Express
American Express wants you to have a great SBS, so they share tons of tips, tricks, and resources to help you plan and advertise. They even provide free, customizable marketing materials. If you accept American Express and are a Shop Small® eligible business, American Express offers even more opportunities, like including you on their Shop Small map.
Learn more about how American Express can help your company get involved.
2. Reach your social media followers
Jump on social media and tell your followers how you'll be participating in Small Business Saturday, so they get excited to shop with you.
Create a Facebook event. Invite your followers to your store on SBS and encourage them to invite their friends and family. Let attendees know whether you're going to offer special discounts or will be doing giveaways throughout the day.
Host a selfie contest. Ask your customers to take selfies in your store on SBS, then choose a random person to win a prize. Not only will they introduce their own followers to your business, but you'll also get lots of new user-generated content to use in the future.
Go live. Promote SBS by going live as you're getting the store ready, or throughout the day to show potential shoppers what they're missing.
Use relevant hashtags. Whenever you're posting about SBS, use #ShopSmall, #SmallBusinessSaturday, #SmallBizSat, and/or #ShopLocal. Everyone in your area will be able to find you – even if they don't already follow you.
Read also: Social Media Marketing
3. Send emails to your loyal customers
Send out an email to everyone on your newsletter list to get them excited for SBS. Consider offering an exclusive discount to newsletter members that they can use by sharing a secret word at checkout.
Read also: 6 Ways to Effectively Use Email Marketing
4. Create a gift guide
Create a guide with your most in-demand products broken into holiday shopping categories – "Gifts for Your Wife," "Gifts for Your Kids, Ages 8-12," etc. Your customers will have one less thing to worry about because you've already picked out the perfect gift for everyone on their list.
Read also: 12 Tips for Promoting Your Small Business During the Holidays
5. Send holiday cards
Mail out cards to your frequent shoppers and encourage them to get a jumpstart on their holiday shopping on SBS. By sending out cards early, you'll show you care about your customers, and you'll remind them why they love doing business with you.
6. Become a Neighborhood Champion
If you want to become even more involved in your community on SBS, become a Neighborhood Champion. A Small Business Saturday Neighborhood Champion encourages local companies to participate in SBS and rallies their community to shop on SBS.
American Express expects Neighborhood Champions to do four things:
encourage people to "Shop Small"
organize a community event on SBS to bring the community and local businesses together
encourage 10 or more small businesses to participate in SBS
distribute Shop Small merchandise, like tote bags, posters, and balloons
If the thought of organizing a community event terrifies you, consider using one of these three ideas:
Welcome Breakfast – Host a breakfast for small business owners before their stores open on SBS. They'll be energized and ready to take on the day, while networking with other entrepreneurs.
Passport Project – Create "passports" that shoppers can get stamped at each small business. Passport holders can get a freebie or special discount at participating stores.
Welcome Station – If your community has several independent retailers in one area, set up a welcome station for shoppers. There, customers can pick up a list of participating businesses and a special treat.