Start Your Free 30-Day Trial
Payroll and HR in One Solution
No Credit Card Required
Get Workful, the All-in-one tool for your
(small)

big business.
Run Payroll
Go Fully Automated or Control it to the Penny. It's Your Choice.
Workful pulls hours and PTO from your employees' time clocks, so you know your payroll is correct every time. It also calculates year-to-date earnings, deductions, and taxes each payroll run. You even have the option to automatically include reimbursements with their pay. You can run payroll in minutes, so you can get back to business faster.
Time & Attendance
Included for free and guarantees your payroll is right everytime.
Payroll is easier when your time and attendance platform feeds automatically into payroll. With Workful, you get the time and attendance platform for free so employees can easily clock in and out from Workful's app. Save time and paperwork!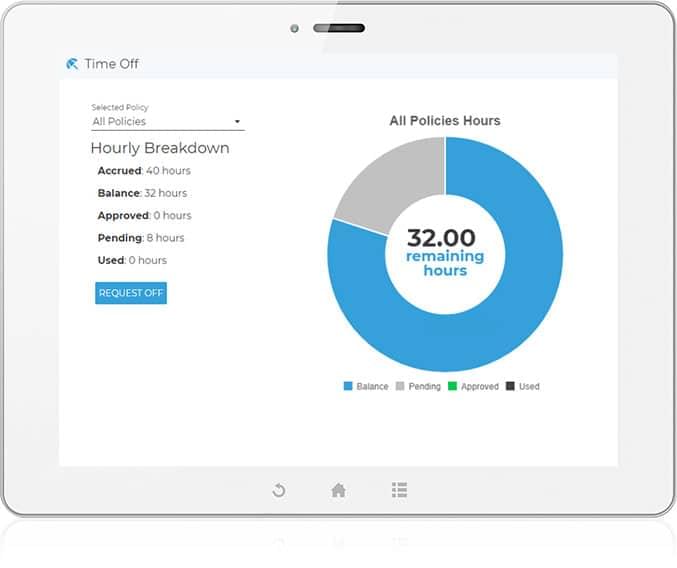 File Federal & State Forms
Taxes are a Lot Less Stressful When All You Have to Do is Click
Workful tracks your federal and state taxes every time you run payroll. When it's time to file your state and federal tax forms – do it with just the click of a button. Time to send W-2s and 1099s? Workful does that too!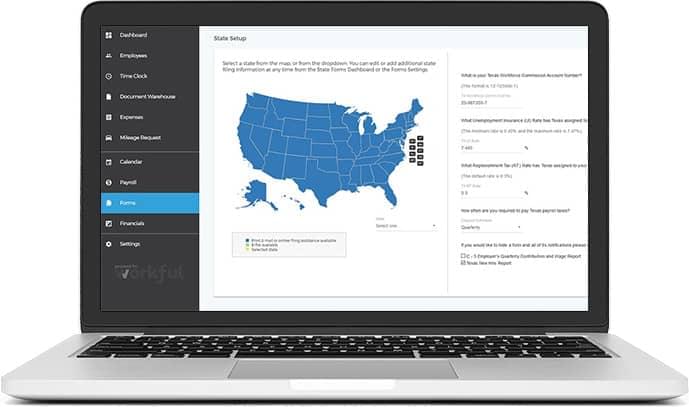 Create and View Reports
Instant Insights on Every Single Detail
View, print, and create payroll reports detailing your employees' total hours worked, your tax liability, and your federal and state unemployment insurance liability. You can even track expense requests and paid time off. You'll spend less time calculating and more time growing your business.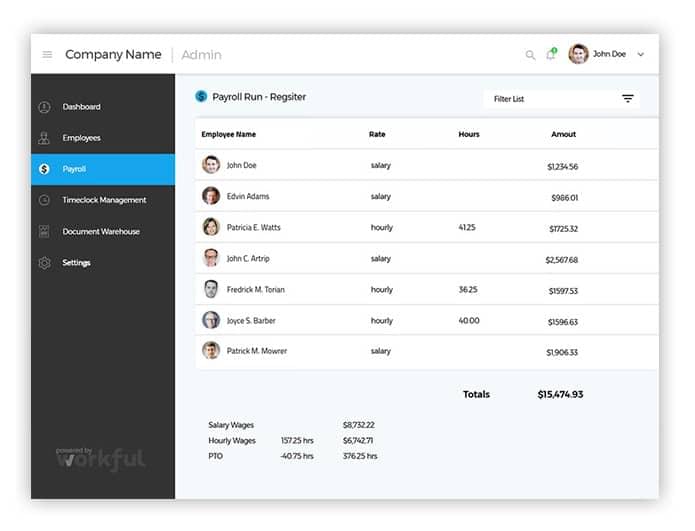 Employee Mobile Access
Your Employees Will Love the Convenience
At home, on the road, or around the world, your employees will now have 24/7 access to the payroll system. That means mobile clock-ins and clock-outs, time off requests, updating direct deposit information, expense and mileage submissions, plus fully-enabled employee self-management. Prefer to limit access? You can do that, too. With Workful, you have total control.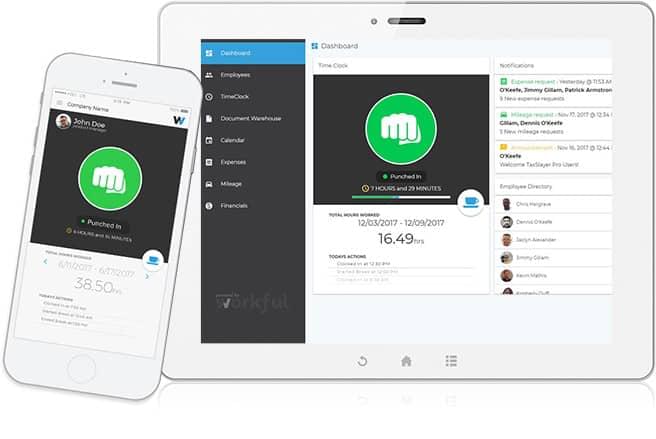 We timed it last week. 4 minutes to run payroll! It used to take half my day.

Beth Sibbring Tangible Impact, Inc.
Everything is included
Workful is packed with these great features
Payroll

Unlimited payroll runs
Multiple pay rates
Built-in time tracking
State & federal tax forms
Benefits deduction
QuickBooks integration
W-2 & 1099 preparation
Reports
Electronic paystubs
Free direct deposit
Hourly, salary, and 1099
Reimburse within payroll
Check printing
Access from any location

Time Tracking

Timesheets
Syncs with payroll
Auto calculates overtime
Auto calculates time accrual
PTO tracking
Customized policies
Multiple accrual methods
Manager approval roles
Geolocation or wifi for clock-ins
Employee mobile app
Access from any location

Employee Tools

Employee portal
Employee onboarding
Expense tracking
Document warehouse
Mileage reimbursement
Manager roles
Track time off requests
Calendar and notifications
Access to paystubs
Self-management
Access from any location
What you pay:
$35/month + $6/team member/month