12 Tips for Promoting Your Small Business During the Holidays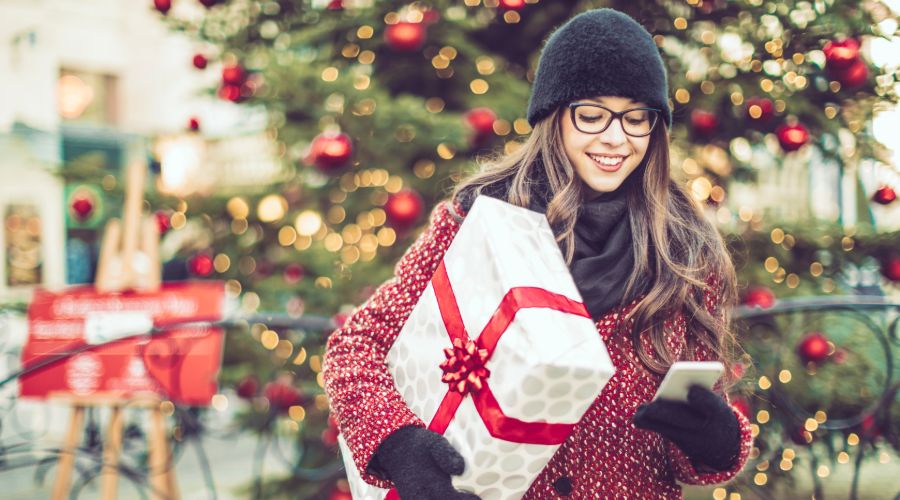 Preparation is the key to success. The earlier you start preparing for the holiday shopping season, the more successful the season will be for your small business.
Some consumers might get a little annoyed if they see holiday ads before Thanksgiving, but the majority of shoppers are becoming less and less bothered by it. Why? Because they're shopping earlier than ever. According to a study done by Deloitte, 18 percent of people start their holiday shopping by early September.
If your customers are preparing for the holidays early, you probably should be, too. The sooner you know how your store is going to celebrate the holidays, the sooner you can start telling your customers about your plans.
Here are some tips for promoting your company during the holiday shopping season:
1. Include a coupon with purchase
It's much cheaper to retain customers than to attract new ones. So, if you have a lot of first-time customers shopping with you during the holidays, consider including a coupon with every purchase to encourage people to come back after the holidays.
2. Invite Santa
If your store sells kids' toys or clothes, your customers would love for you to bring in Santa for pictures. While the kids are waiting to share their Christmas list with Santa, they might spot something in your store that just hasto be under the tree.
3. Share your return policy
How many times have you opened a gift that doesn't fit, is the wrong color, or you just don't like? When that happens, you've probably turned to the gift giver with a smile and said, "I love it! Thank you!" Then, you looked through the wrapping for a gift receipt as soon as you get the chance. That way, you can exchange the item for exactly what you want without offending anyone.
If you include your return policy in your holiday marketing, your customers will be able to shop with some peace of mind. They know their gift won't just be tossed in the trash if the receiver hates it, and you might get a few new customers when people come to return their presents.
4. Send out Christmas cards
Show your most loyal customers how much you care about them and appreciate their business by sending Christmas cards through the mail. Write a short, personalized note and consider including an exclusive discount. If they know you're thinking about them, they'll be encouraged to come in and get their Christmas shopping done early.
5. Take advantage of your email list
Consumers tend to open more emails during the holiday season because they want to find the best deals possible. So, don't be afraid to send out a few more emails than usual. Keep your emails simple and straightforward – tell your customers when the sale is and how big of a discount they'll get. Read also: 6 Ways to Effectively Use Email Marketing
6.Reach out to bloggers
Many bloggers publish holiday gift guides for their readers. Reach out to bloggers in your industry and ask them to include your products in their guide.
7. Create your own guide
You can also create your own holiday guide. Include pictures of your products as gift suggestions and helpful tips for the holiday season. For example, if you own a women's clothing boutique, share some of your favorite holiday party outfit ideas.
You can post your guide to your store's blog, share it in your email newsletter, or keep printed copies at the register.
8. Host a "12 Days of Christmas" sale
If you want your store to be crowded every day or people to stop by your website more often, host a "12 Days of Christmas" sale. For each of the 12 days leading up to Christmas, offer a special discount or put a different product on sale.
9. Give away stocking stuffers
Everyone needs stocking stuffers, but a lot of people forget about them until they're checking out. Since stocking stuffers don't typically cost a lot, take some of the pressure off and include a free stocking stuffer with every purchase. For example, a women's clothing boutique could offer a cute pair of socks, a compact makeup mirror, or some lip gloss with every purchase.
10. Offer free gift wrapping
There's so much to do around the holidays – shopping, cleaning the house for guests, and gift wrapping. Help your customers out by offering a gift-wrapping station or wrapping their purchases for them. They won't have to worry about sneaking presents into the house, and it can be one more thing checked off their list.
11. Encourage customers to treat themselves
During the holidays, your customers might feel guilty about buying something for themselves. Don't let them feel guilty! Instead, have some BOGO sales. That way, your customers can buy something for a friend and get something for themselves without feeling too guilty.
12. Host a special event
Get more people into your store by hosting a special event, like a Tree Lighting or a Holiday Party. Then, offer exclusive discounts throughout the party. People will have a great time andgo shopping – it's a win-win!