15 Must-Have Items for Your New Hire Welcome Kit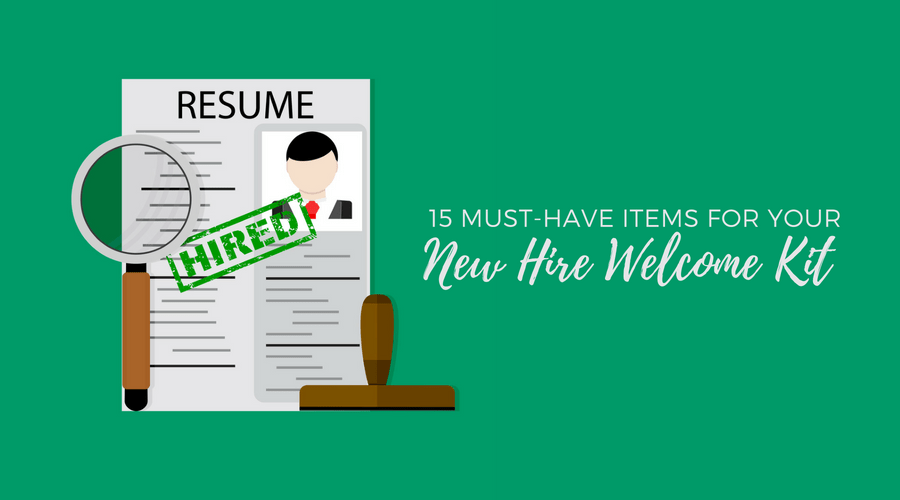 Congratulations on hiring a new employee! To help them feel like they're already a member of the team, give them a new hire welcome kit on their first day or even before they start. Consider including the following 15 things.
1. A handwritten note
A short, handwritten note from you, the person's boss, or a coworker is one of the best ways to show your new hire that they are already part of the team. It can be tempting to print off a letter, but handwriting it shows that you put thought into it and wrote it specifically for them.

2. Employee handbook
Every employee needs a copy of the employee handbook anyway, so go ahead and print out a copy for them. If they can access the handbook from your online document warehouse, consider printing the pages they'll need to sign stating that they've read and understood your policies. Read also: What's in an Employee Handbook?
3. List of company holidays
You likely have a list of holidays in your employee handbook, but sometimes dates change. For example, you might close the office on either Christmas Eve or the day after Christmas, depending on the day of the week.
4. Company directory
It can be awkward to ask a new coworker for their contact information or to try to remember everyone's email addresses, so give your new hire a company directory. You can explicitly mark members of their department, their mentor, and their boss so they can find who they need quickly. It's also a good idea to include pictures and bios in the directory, so new hires can start to put faces to names.
Allow your team to access your company director online through Workful's employee portal. Get started today!
5. Organizational chart
An organizational chart gives your new hire a clear picture of where they fit in the company and who they should go to, especially if they have questions for a department outside their own.
6. Map of the office
A map of your office doesn't have to be too detailed, but it's a great idea to include parking information and to mark the new employee's desk or office. That way, they won't get lost coming back from the bathroom.
7. Financial & tax forms
There are some things that every new hire has to fill out anyway – a W-4 form, direct deposit information, and an I-9 form. Instead of having them print out copies on their own, provide copies ahead of time.
8. Compensation & benefits information
You probably went over compensation and benefits when you offered the job, but don't expect your new hire to remember every detail. Remind them what their salary or hourly rate is, how often they'll get paid, and the date of their first payday. Give them information about retirement plans, health insurance options, or any other benefits you offer, including how much time off they'll get. Read also: How Many Vacation Days are Normal?
9. Employee information form
An employee information form can be as simple or complicated as you want, depending on what information you want to know. The form lets you find out their birthday, emergency contact information, or even their favorite restaurant.
10. Orientation schedule
The first day and first week of a new job can be confusing. You don't know anyone's name or your way around the office. Take some of the pressure off by providing each new hire with an orientation schedule and their schedule for the first week. Include any projects you want them to get started on or any meetings you want them to attend.
If you have a regular staff meeting every Tuesday morning, consider adding a note to the schedule that you'll swing by their desk a few minutes before the meeting starts.
11. Office supplies
No matter how tech-savvy your office is, everyone needs a pen, notepad, and Post-It notes occasionally. Instead of making your new hire find office supplies as they need them or bring their own, provide them with everything you think they'll need.
12. Company swag
A great way to show your new hire that you're excited to have them on your team is to give them items with your company name or logo on it. You might provide them with a coffee mug, water bottle, t-shirt, or stickers to put on their car or laptop. They'll also be able to show off how excited they are to join your company.
13. A fun welcome gift
A gift that doesn't have anything to do with work is a great way to welcome someone to your team. It doesn't have to be extravagant. Maybe everyone in the office fell in love with the same book, so give your new hire that book. Or, you might offer a picture frame for their desk or headphones to listen to their favorite music while they're working.
14. Your company's social media profiles & hashtags
A list of your company's social media profiles and hashtags might seem silly, but it encourages your new hire to follow or like you and share how excited they are to be joining your team.
15. A list of local hotspots
Whether your worker is new to town or has lived there their entire life, it's always a good idea to share a list of restaurants and coffee shops within walking distance from the office. This will help them decide where to go to lunch or grab a cup of coffee for an afternoon pick-me-up.