Do I Need a Website?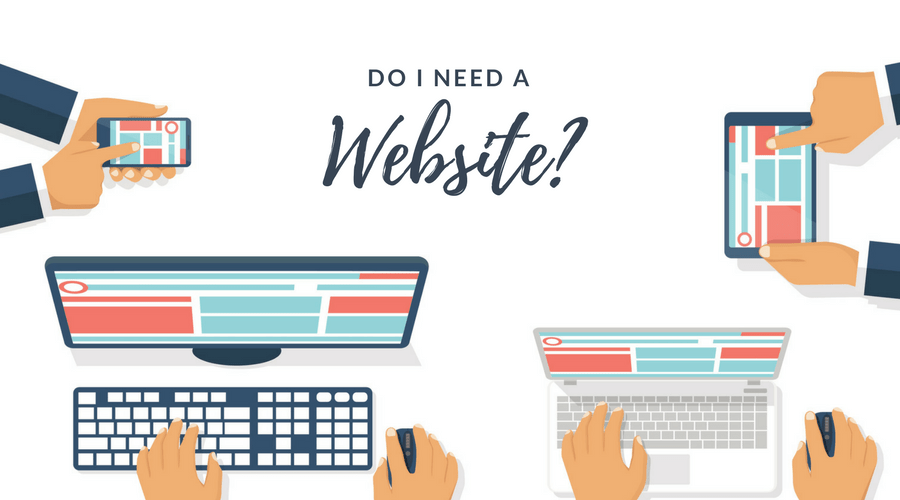 Maybe. When a potential customer is looking for your company, the first thing they'll likely do is look you up on Google. If you don't have any web presence, they'll discount you immediately and move on to a competitor. One way to build a web presence is through a website, which is an online extension of your company and should reflect your brand.
Depending on your business, you might be able to get away with a Facebook page. If pricing or scheduling is involved at all, however, invest in a website so potential customers can quickly check prices or times.
According to Joey Herzberg, Web Designer & Optimization Manager at TaxSlayer, small businesses and websites go hand-in-hand. A site is a great way to further the reach of your business and attract new customers. Jesse Nichols, UX/UI Designer at TaxSlayer, adds that any company that doesn't make having a web presence a priority could be lost in the shuffle.
Should you hire someone to build my website?
If you've decided that you need a site, the next question you need to answer is, "Can I build one myself, or should I hire a professional?" Your decision will typically depend on your skill set, time, and budget.
Skill set – If you don't have a good eye for design, consider hiring someone to build your website for you.
Time – If you want your site built in a few days, hire a professional. If you have a few weeks or months to devote (and are willing to research and experiment), take that time to build it yourself.
Budget – You can certainly hire someone if you're on a tight budget. Just look for brand new web designers who are trying to build their portfolios. Many students want to build up their portfolios before graduation, so post flyers near the technology building of your local college. Be respectful and allow the designer to link to your site indefinitely.
If you're still questioning whether to hire a designer to build your website, Nichols points out that there's a lot of behind-the-scenes work that designers do. For example, they can ensure search engine optimization (SEO) and tagging are done correctly, so your site shows up on search engines.
If you want to build your website yourself, you have the option of using a template from sites like WordPress, Weebly, or Wix. Herzberg says there's a place for these templates in small businesses, especially when you're just starting. As your business grows, you can upgrade to something more substantial.
What should you include on your website?
After you've decided who's going to build your site, make sure you include the following components:
Professional domain name – Purchase a domain name that's unique, descriptive, and easy to remember, like your business name. You can purchase your domain name through sites like GoDaddy, which can also help you set up an email address. Read also: What's in a Business Name?
Home page – Make sure visitors know what to do when they first see your website by including a call to action (CTA) to make the next step easy. Depending on what you want consumers to do, your CTA might be "Buy Now," "Read More," or "Call Us."
Easy-to-use shopping cart – If consumers can make purchases online, make the shopping experience as easy as possible. Learn more about how to start an online store.
Contact information – Make it easy for clients to contact you by putting your contact information in a prominent location on your site.
6 tips to make the most of your website
Register your company with Google My Business. This allows consumers to see your address and contact information on Google. Read also: How to Take Advantage of Google My Business
Keep your website updated. Having an outdated site is just as bad as having no web presence.
Know your customers. What's important to them? What do they need to know? Don't build a website to stroke your ego or showcase what you want. Build a site to showcase the information your visitors want to see. Read also: 4 Tips for Getting to Know Your Customers Better
Add value at every turn. If something doesn't add value, consider excluding it from your website. For example, an "About Us" section can add credibility, but make sure it offers something to viewers. If you decide to include one, keep it short – no more than one or two paragraphs. Similarly, make sure your testimonials highlight why consumers should do business with you.
Make your website mobile-friendly. Over half of all internet searches are done on phones. If your site isn't mobile-friendly, you might turn potential customers away.
"Content is king." Keep your content relevant, SEO friendly, and updated. If you're not a strong writer, hire someone to write your content.